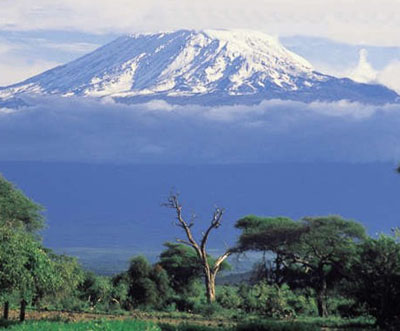 The tagline for the website is "Without a job after 26 years, losing her mother two months later and starting menopause,
what's a woman to do? Attempt to Climb Mount Everest, of course!" and that's just what 50 year old Nicki Branch is attempting to do. The intrepid adventuerer has just started on her quest for the Seven Summits, knocking off Kilimanjaro last week, and is now turning her sites on the other six. Looks like she's planning to do the Kosciuszko version rather than Carstensz Pyramid. But I have a hunch, that if she gets up Everest, she'll be wanting to take on the Pyramid too. Good lucky Nicki, we'll be cheering for you!
Thanks Alan Arnette.
Meanwhile, on the other end of the spectrum is ten year old Jordan Romero who is aiming to become the youngest person to complete the Seven Summits. He's also topped out on Kili and is hoping to do one of the summits each year over the next few years, completing the Seven Summits by the time he is sixteen. The kid's even alread got sponsors!.
Thanks Daniel.
Latest posts by Kraig Becker
(see all)