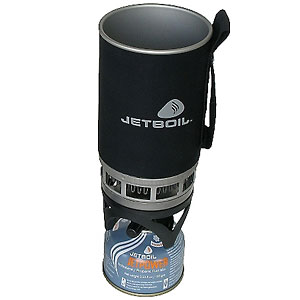 This article is a few weeks old, but it's a comprehensive review of some cool gear non the less. TrailSpace.com has put together an excellent article comparing the top integrated canister stoves.
The review pits the Jetboil Personal Cooking System vs. the Jetboil Group Cooking Sytem and the MSR Reactor. The resulsts were pretty surprising.
For the past couple of years, the Jetboil system has been the darling of the light and fast backpacking crowd. It's gotten rave reviews and won numerous awards for being innovative, energy efficient, and quick to heat up. But MSR hasn't been resting on their laurels, as the buzz on the Reactor has been very strong, and it's said to beat the Jetboil at it's own game.
Well, Trail Space's review gives the Reactor very high marks indeed. The time it took the system to boil water was less than half that of the Jetboil systems, and MSR's little stove performed even better against the Jetboil in windy conditions. However, if you can put up with a taking a little more time to heat up, the Jetboil system is still lighter, smaller, more fuel efficient and cheaper than the Reactor. Those are very important factors to consider. While there is a lot to like about the Reactor, which won't be available until April, but is seems that the Jetboil is still the King. Hail to the King Baby!
Latest posts by Kraig Becker
(see all)