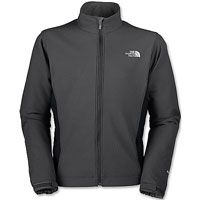 With all the options in gear these days, it's easy to see how someone can get confused with the different choices, terminology, and technology that goes into any good outdoor product. TrailSpace.com, which is quickly becoming one of my favorite sites, has posted this great article, entitled Soft Shells 101, to help take the mystery out of buying a soft shell.
They start off by defining what falls into the "soft shell" category, and then proceed to discuss when and how they are used, what options to look for, and how to select the proper soft shell for your own adventures. They even have some good examples of different types of soft shells, and links to reviews on them, just to add a little more information.
Over the years, I've found that the proper gear is important, and the proper clothing is essential. When the weather is nice and you just need something cool and comfortable, you don't really think about your options much. However, when the weather turns bad, you really want to make sure you've invested wisely in your gear. It's good to shop for bargains, but not at the expense of quality. When it comes to staying warm and dry, you definitely don't want to scrimp. Articles like this one help to take some of the guess work out of buying and help us all to make good choices.
Latest posts by Kraig Becker
(see all)