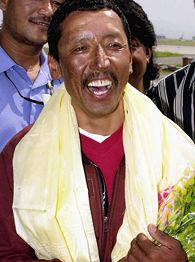 Apa, a Sherpa from Nepal, who scaled Everest for a record 17th time, has definitely hit the big time. There is a feature article about him on ESPN.com, a site that covers major sporting events, such as football, baseball, and basketball, but rarely touches on something like mountaineerning.
Apa was of course a member of the Super Sherpas who topped out on Everest earlier today. The article notes that Apa first summitted back in in 1989 and has had 16 more summits since then. Definitely an amazing feat, and at the age of 46, he very well may continue to climb.
This story is amazing for several reasons. Of course, Apa adding to the record he already held is a great story in and of itself, and the Super Sherpa's charity climb to raise money for schools for the children of the Sherpas is a great cause. But it's also amazing that ESPN bothered to even put this up on their website. As I said, this is not the kind of story that gets mainstream buzz. As I write this, the story is actually on the ESPN.com front page. It's great to see the sport get some recognition from the mainstream media. It is certainly well deserved.
Thanks for the heads up on this one Carl!
Latest posts by Kraig Becker
(see all)