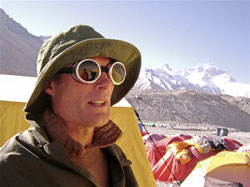 With the two teams summitting yesterday, the mountain is now all but empty. On the North side, Conrad Anker's Altitude Everest Team has finished acclimatization and will be heading up for their summit attempt soon. Alan Arnette notes on his Everest 2007 page that the team will be attempting their summit push starting around the 8th. We've heard that there are high winds up high at the moment, but the weather window is expected to open up one more time before the monsoon sets in.
Anker's team will be climbing in vintage gear, circa 1924, when George Mallory and Sandy Irvine perished on the mountain. The team is filming a documentary that will try to recreate the climbing conditions that the two men faced, going so far as to remove the ladder at the Second Step. There are some that believe Mallory and Irvine may have actually summitted nealry 30 years before Hillary and Norgay, but they died on their descent. We'll probably never know for sure, but Anker hopes to prove that it was at least possible that they topped out.
While we wait and watch to see if the Altitude team is successful in their attempt, the folks over at ExWeb are debating when the first cell phone call from the summit was made.
Latest posts by Kraig Becker
(see all)