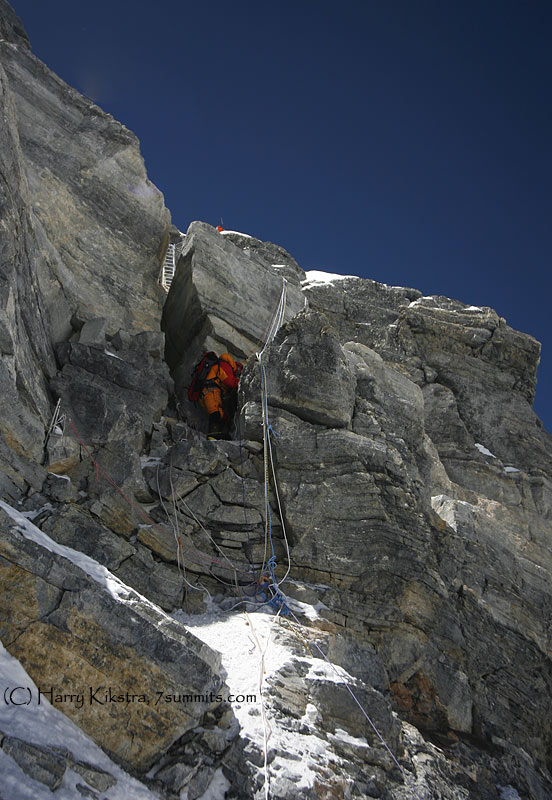 John Harlin: I mentioned yesterday that there is a growing controversy surrounding the Altitude Everest Team's recent claims that they were the first to "free climb" the Second Step on Everest on their way to the top. The team went so far as to remove the ladder that is traditionally used in this tricky section of the mountain in their attempt to climb as Mallory and Irvine did back in 1924.
Upon their return from their successful summit, the team put out a press release that claimed they were the first to achieve this vaunted climb, despite the fact that ExWeb has posted an article that claims that both Oscar Cadiach and Theo Fritsche had free climbed the Second Step as well. The matter was exasperated further when Miss Elizabeth Hawley, the Grand Dame of Himalayan Climbing History, was quoted as saying that the Altitude Everest Team was the first to do this since a Chinese team made the climb back in the 1960's.
Of course, the climbing community has been awash with confusion over these very different remarks, with a number of people weighing in on the subject, including Cadiach himself. ExWeb has contacted John Harlin, of The American Alpine Journal, Everest Historian Jochen Hemmleb, Miss Hawley herself to, try to get to the bottom of this whole affair. Apparently, all three have responded, and we'll hear from each of them soon, but for now, John Harlin III is the first to give comment.
Harlin went back to the 1986 report published in the AAJ, on Oscar Cadiach's Everest summit, which was done in August under Monsoon conditions. He says that the report makes no mention of Cadiach free climbing the second step, and that it only says that he had to "overcome" it, which doesn't reveal a lot. Harlin also says that the AAJ is not very complete when it comes to Everest, mainly noting when there are new routes put up, or when an old route is done in superior fashion.
He then goes on to define what "free climb" means, with a special emphasis on climbing using your own power, hands and feet, and no special tools. Harlin than concedes that it is debatable that climbing using supplemental oxygen is still a free climb.
The rest of the article examines Harlin's thoughts on other aspects of the climb and his thoughts on the claims that Conrad Anker and Leo Houlding are amongst the "best climbers" in the World. ExWeb debates that statement because of a lack of high altitude climbs, but Harlin clearly sees that skill at climbing and altitude do not necessarily have to relate to one another.
This is another interesting read. I'm not sure what it means that Cadiach's 1985 climb has no mention of a free climb of the Second Step in the AAJ. Seems kind of odd to me, considering the importance of such a climb. I guess we'll have to wait to see how Miss Hawley and Jochen Hemmleb have to say on the topic.
Latest posts by Kraig Becker
(see all)