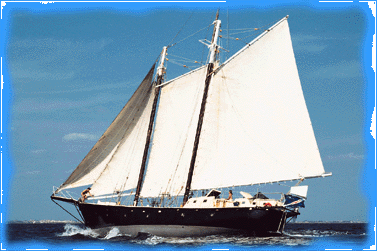 How is this for an ambitious under taking? Reid Stowe and his first mate Soanya Ahmad have set off to sail the open seas for 1000 days straight, without returning to land. They've dubbed their mission the 1000 Days at Sea: The Mars Ocean Odyssey as they hope to emulate in some ways a voyage to the Red Planet.
The expedition got underway on April 21st of this year, and they are currently 74 days into their voyage, in which Reid and Soanya hope to prove that humans can live aboard a small craft for nearly three years. The ship is loaded down with all the supplies they need, including food and water, and other gear, and the crew is in constant contact with their support team back in New York City, via GPS and satellite communications.
Currently, the ship, christened the Schooner Anne, is off the coast of West Africa and heading South. You can follow their daily progress by reading the blog of the Voyage and tracking them online via Mission Control on the official website.
I have to admit, I know next to nothing about sailing. However, I have always thought that it would be terribly romantic to have a vessel like the Schooner Anne and follow the winds across the open sea. Of course, I don't think I'd want to spend 1000 days without setting foot on land. After nearly 75 days at sea, I'd be ready to pull into port somewhere in Africa and enjoy a little time on dry land. Besides, I would think it would be an amazing way to explore different regions of the World.
Thank to Alan for sending this link my way. It's definitely quite an adventure.
Latest posts by Kraig Becker
(see all)