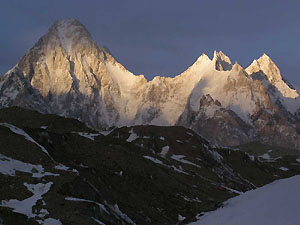 K2Climb.net brings the scary news that an avalanche has struck a five-member group of the Amical Team climbing on Gasherbrum II. The report states that four climbers were buried, one of which was later rescued but died shortly there after. Other members sustained serious injuries, and a fourth climber remains missing at this time.
The avalanche hit the team above C2 at around 6700m. Two climbers from other teams left C2 to move up to help, and by the time they arrived, one of the Amical climbers had already freed himself. They then proceeded to rescue two of the other buried climbers, but a fourth was still buried on the mountain.
Other teams have since moved in to help. Searching for the missing climber, and lending aid to the injured and helping the Amical team to get back down the mountain. Some of those teams were making summit bids, but are now selflessly lending aid and working tirelessly where ever they can.
I'm sure we'll hear more about this story over the next few days. Lets keep our fingers crossed that the missing climber is found, and that those survivors recover well. Our thoughts are with the family of the climber that lost his life. At this time, no names have been released yet.
Latest posts by Kraig Becker
(see all)