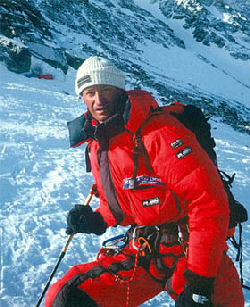 K2Climb.net is reporting that there have been a number of summits on Broad Peak with Silvio 'Gnaro' Mondinelli, Marco Confortola, Ivan Vallejo, Gerlinde Kaltenbrunner, Ralf Dujmovits, Fabio Iacchini, Edurne Pasaban, amongst others, all topping out on the mountain. For Mondinelli, it's his 14th 8000m peak, putting him into the exclusive club of men who have summitted the 8-thousanders.
It was a good day for the ladies as well, as Broad Peak with the 10th 8000m peak for Gerlinde and the 9th for Edurne, marking them as amongst the best female climbers in the World. Nives Meroi is also at 9 officially as well, as the women race to see who is the first to get all the peaks.
Meanwhile, things are looking up on the other mountains in the area as well. The Shared Summit Team is preparing to make another run at K2, with reports that a weather window should open up early next week. K2 also happens to be the next stop for Gerlinde and husband Ralf.
We should see summits tonight on Nanga Parbat as well, as the joint Polish-Slovak team, lead by Dodo Kopold, are already in C4 at 7100m and will go for the top tonight. On Gasherbrum, the FTA Team has already made a run at the summit yesterday but were forced to turn back at 7700m. Their second team will attempt to go up today, hopefully with better results.
It looks like Summit Season in the Karakorum has begun. Congratulations to everyone who has already topped out, and be safe coming down. As for those still waiting, good luck and climb safe.
Latest posts by Kraig Becker
(see all)