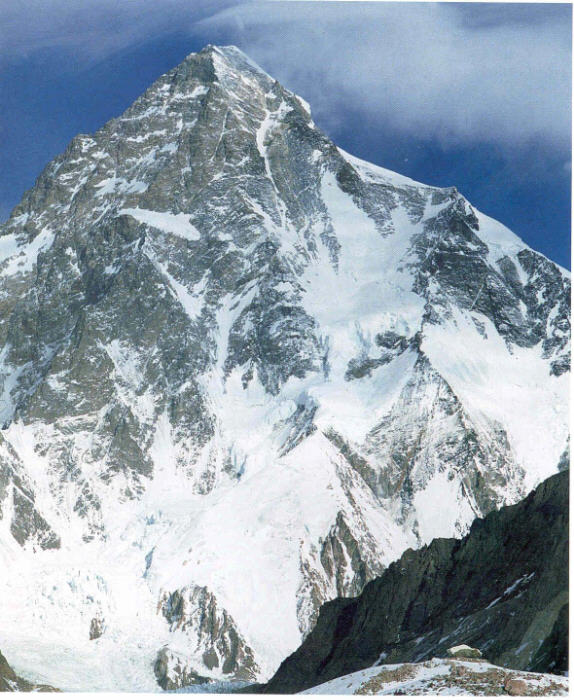 As predicted, the teams on K2 are making their move to take advantage of the weather window, according to K2Climb.net. After days of waiting, the patient climbers have finally been rewarded with good weather, at least on the lower slopes, that is expected to last through the weekend.
Gerfried Göschl and his team are on their way to C2 today along the Abruzzi Spur. Their current plan is to move up to C4 tomorrow, with the hope of topping out on Saturday before the high winds return starting on Sunday.
The story is much the same along the Cesen Route as well, where David Gottler and Gerlinde Kaltenbrunner have also begun their summit push. They're joined by Dodo Kopold and his team who have abandoned their alpine style ascent along a new route along the Western Face. The Russians are reporting high winds above 7800m, which dissuaded Dodo and his crew from going up that route. The plan is for the entire group to go fast and light, non-stop to the summit starting tomorrow.
Speaking of the Russians on the West Face, as of this morning there is no news of their progress. They were expected to start their climb of the final portion of the mountain, but progress could be very slow. Kazakh Denis Urubko estimates that it could take as long as three days to complete that final section, which would put them dangerously close to the end of the weather window.
Lets keep our fingers crossed for the Russians and the other teams making their summit bids over the next few days. We all know that the weather can change quickly and K2 is a dangerous place, even under the best of conditions.
Update: K2Climb is now reporting that the Russians are on the move! Alexey Bolotov, Gennady Kirievsky and Nickolay Totmjanin have left Camp 5 and are moving toward the summit. The trio spent four days, at altitude, waiting out a storm, without the use of supplemental oxygen. They began the last portion of their climb by completing 12 pitces using fixed ropes that had already been set in place, before starting the arduous free climb to the summit.
The Russian support team is moving up to C3 to be in a better position to render aid, should the need arise. The three climbers have lightened their load in order to move faster, but are still carrying a tent, stove, sleeping bags and mattresses, as well as other gear t help them stay comfortable over the next few days. They are expected to check in every couple of ours via radio, and as they prepare to make camp for the night.
Good to know they're on the move as well. Hopefully all will go well, and the three men will stand on top and get down safely. It's been an amazing effort by everyone on the team, and now it appears those efforts are going to pay off.
Latest posts by Kraig Becker
(see all)