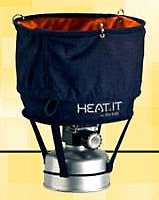 This past weekend the 2007 Summer Outdoor Retailer Show was held in Salt Lake City. The twice-a-year convention is a gear addicts dream come true, with manufacturers introducing their latest and greatest new items that will hit store shelves late this year or early next. You'll find everything from packs, tents, boots, and clothing, to kayaks, climbing gear, and more. There is literally something for everyone, and with 20,000+ people on hand, it can make for a crazy few days.
The Gear Junkie is always ready to give us the scoop on the gear that catches his eye, and his latest Daily Dispatch gives us a sneak peek at a few things we can expect. He only gives us a glimpse at a few items, but what he has selected, are certainly drool worthy, like the new pack from Inov-8 designed for adventure racers, or the new two person tent from Mountain Hardwear, one of my favorite gear companies. While these little previews are enough to whet our appetites, I'm sure Stephen will have even more cool gear for us soon.
Meanwhile, if you would like more from the show, check out the day-by-day reports from Alicia MacLeay over at the Trailspace Blog Alicia made posts on the more interesting things that caught her eye over the past few days as well, including an interesting new cooking system called "Heat-It" that adds on to your existing system to make it more efficient. She also teases us with new packs from Mountainsmith as well as gear from GoLite, not to mention plenty more.
Judging from what little I've seen so far, it looks like there is going to be plenty of great new stuff competing for our hard earned cash in the months ahead.
Latest posts by Kraig Becker
(see all)