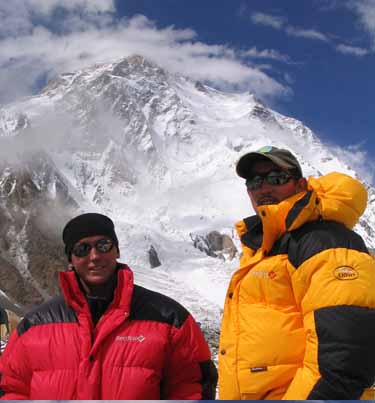 K2Climb.net has already posted an update today from K2 on the progress of Maxut and Vassily. After spending a third night in the Death Zone, they're continuing to work the rock, searching for an alternate route to the summit.
Yesterday, the boys established an "assault camp" at 8300m and continued to establish fixed lines above that point. After running out of rope, the pair free climbed the rock face, looking for a safe route to the summit, and one point were forced to down-climb 100 meters to continue their search.
At base camp, spotters using a telescope helped to define the route, but as clouds moved in, that support was no longer an option, leaving the two men to find their own way. On top of that, high winds moved into the area, making the climb even more challenging.
In the end, Maxut and Vassily were forced to return to their high camp for the night, but hope to find a way up the rock face today, and complete their climb. With the fixed ropes in place, they are now just 100 meters below the summit, but that last 100 meters could be amongst the toughest anywhere in the World. Seeking a new route, at that altitude, with dodgy weather, after three days above 7500m is grueling work to say the least.
The plan for today is for the two climbers to try to continue their ascent, while support teams lower on the mountain move into position to help them should an emergency rescue be necessary. It is possible that Maxut and Vassily will establish one more, temporary camp, as they go to the summit. They are carrying a tent, and could conceivably take one more night to rest on their way to the top.
Stay tuned for more updates. These two men aren't done yet, but if they are going to top out, it's going to take an amazing effort to do so. If anyone can do it, it's Maxut and Vassily.
Latest posts by Kraig Becker
(see all)