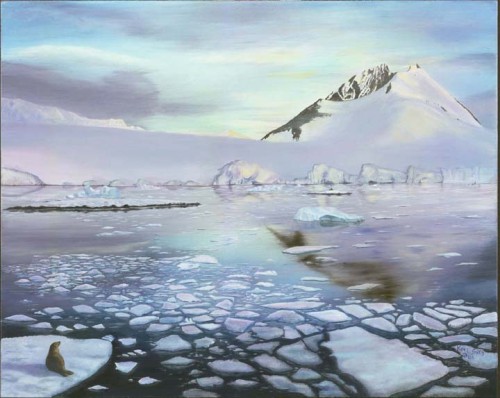 More news from ThePoles.com today regarding the barely underway Antarctic season. The word is that it's bitterly cold out on the ice with powerful winds making it tough going at the moment.
While Peter Valusiak has canceled his attempt at an antarctic traverse for this year, the Irish Beyond Endurance team is already off, with the intention of crossing the continent. The team has been out of Patriot Hills for six days now, and have cracked the 100 mile mark, with just 1000 yet to go. They report high winds making it difficult to pitch their tents, and temperatures so cold they are already causing "frost nip" just six days into the expedition.
Meanwhile, both Adrian Hayes and the Hvitserk team. report the same thing. It's cold! Damn cold! The headwinds, reaching as high as 45 miles per hour, combined with a mostly uphill climb, and difficult sastrugi, has made the first degree extremely hard.
Finally, the Teachers On Ice have gone to work in earnest. When they first arrived, they were more concerned with acclimatizing, getting their gear in order, and taking in the amazing sites to see near their camp. Now however, they've begun searching for lichens and other simple plants that might be able to grow in the harsh antarctic conditions.
More teams will be arriving on the ice soon, such as the Beyond Shackleton Team who set out from the U.K. today and will be heading to Cape Town, where they'll launch their bid to follow in the footsteps of Ernest Shackleton by taking his 1915 route, but hopefully continuing on to the Pole itself.
Latest posts by Kraig Becker
(see all)