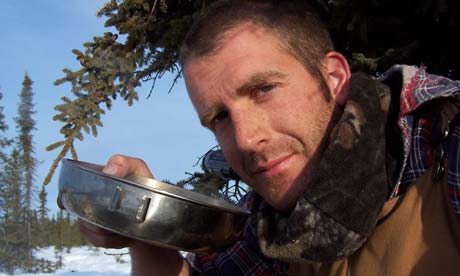 My friend Colm sent me a very interesting article that appeared on the Guardian Website recently. It's the story of a man who spent a year living in the Alaskan backcountry.
The author, Guy Grieve, tells his own tale. Like many of us, he was living a life that revolved around work, the daily grind, and a focus on material things. A tale that is all too common in modern life. At one point though, it dawned on him and his family that they weren't actually living life and that a change needed to happen. Something drastic. Guy needed an "escape". I think he needed a little adventure.
With that realization, in August of 2004, he set off for the desolate, harsh, and unforgiving landscape of the Alaskan wilderness. He settled near the town of Galena, and by "near", I mean 7 hours by dogsled, and began to make friends who helped him in those early days of getting acquainted with the area, learning to survive off the land, and adjusting to a life of solitude in the wilderness. Guy admits that he had good days and bad, and that the first three months in particular were a struggle, but over the course of the year, his life changed, as he was reminded of what was really important.
He also touches on the Chris McCandless story as told in Jon Krakauer's Into The Wild. Guy knew Chris' story, and how it was similar to his on, and while the two shared a kindred spirit, he was also taken aback at how unprepared Chris was for living in the backcountry, although he is quick to point out that he wasn't as prepared as he should have been as well.
The article is a very interesting read. It's as much about survival in a modern age as it is about survival in the wilderness. Living out there for a year clearly changed the author's life, and there is plenty for all of us to think about when it comes to gaining perspective and considering the things that are most important to us.
Latest posts by Kraig Becker
(see all)