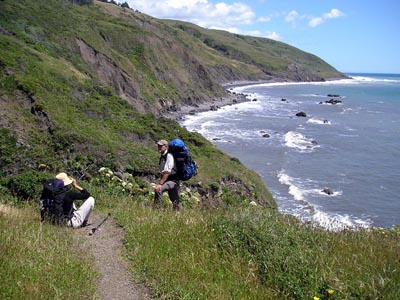 The Miami Hearld, of all places, recently published a story on hiking the Lost Coast Trail in Northern California, a trek that is known to be both beautiful and remote.
The article, written by Greg Johnston, who hiked the trail with two friends does a great job of not only introducing the reader to the trail itself, but setting the scene for what one can expect while hiking. The Lost Coast Trail gets it's name from the fact that this 50 plus mile long winding path is cut off from the rest of the state by the King Range mountains, which sharply drop off into the ocean, creating a unique and challenging setting that is both stark and gorgeous at the same time.
Along the trail you'll find a long dormant lighthouse, shut down in 1951, that is amongst the most remote lighthouses in the country, as well as stunning vistas overlooking the Pacific Ocean and the King Range itself. The article notes that they also saw plenty of bear tracks, as well as bobcat, coyote, deer, otter and raccoon. Off the shore, sea lions and seals sunned themselves on the rocks, while gray whales broke the surface of the water as they took part in their annual migration. It sounds too surreal to be believed.
I've often heard that the Lost Coast trail is a wonderful gem tucked away in Northern California. It seems like a great escape, and there is little traffic on the trail there, which is split into two sections of roughly 25 miles each. Some areas of the trail can even be inaccessible at times thanks to hide tides. A truly remote getaway for any backpacker.
(also found via Outdoor Ed.
Latest posts by Kraig Becker
(see all)