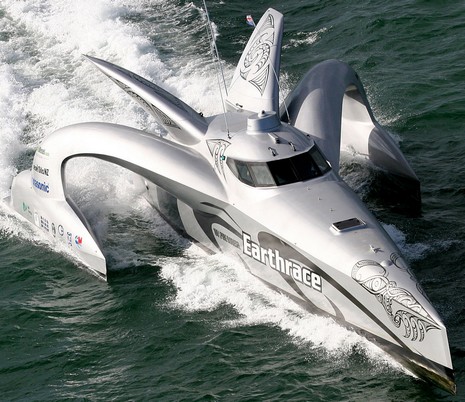 Let me introduce you to the Earthrace an amazing new boat that will attempt to smash the record for circumnavigating the globe, while running completely on biodiesel, making it not only fast, but also environmentally friendly. It also doesn't hurt that it looks like something a James Bond villain would drive.
According to this article over at Telegraph.co.uk, the Earthrace will set off in March in an attempt to circle the globe in just 60 days, soundly beating the old record of 75 days. When you read about the boat's performance, that doesn't sound at all far-fetched. It can carry more 13,000 liters of fuel, enough to power it halfway around the globe, while sustaining speeds of up to 40 knots.
The crew is committed to not only beating that record, but also spreading the word about how "green" their boat is. The Earthrace will produce 78% less carbon emissions than the boat that was used to set the current record. It's use of biodiesel was a deliberate choice as the speedy craft will certainly burn through fuel, so it might as well be fuel that can come from renewable resources.
The article also describes what the interior of the craft is like, and what the crew can expect on their two month long journey. The cockpit is small and cramped, but still the most comfortable part of the ship. The crew quarters below deck are narrow, even more cramped, and filled with the supplies they'll need to make a mostly non-stop trip around the planet.
For now, the Earthrace is on tour, drumming up support for it's mission and allowing curious fans to come aboard and checkout it's high tech options. But soon the team will turn it's attention to that record and in just a few months time, they'll set off to make their mark. It should be an interesting adventure to watch.
Latest posts by Kraig Becker
(see all)