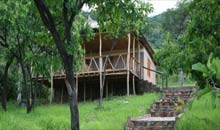 While reading some travel news today I came across two different articles, each of them highlighting a unique safari lodge in Africa, each of them offering a very different experience.
First up, we have this article over at the Guardian Travel section which highlights the Ruaha Hilltop Lodge in Tanzania. This off the beaten path lodge is located near the Ruaha National Park, which is the second largest in the country, but barely known to outsiders. The area is rife with all the local wildlife you would expect to find, including giraffes, elephants, and lions, but is decidedly short on traffic of the human kind. Getting there can be an adventure as well, as the article recommends a train ride of 24 hours in length that affords you amazing views of the countryside as you ramble past african villages and scenic grasslands.
If you're looking for something a little different from your safari however, you may want to check out this article from the Times Online travel site. This time the spotlight falls on the brand-new Sabyinyo Silverback Lodge in Uganda. As the name implies, you'll have the opportunity to get up close and persona with 32 silverback gorillas who live in the near by Volcanoes National Park. The lodge itself is situated on the side of one of those volcanoes, and offers breathtaking views of the Mountains of the Moon. The lodge is all inclusive and comes at a price, but offers a safari experience you'll not find elsewhere.
Of course, your other alternative is to go on the cheap, as I did, and camp right on the serengeti. While this was the "budget" way to go, I can't imagine a better way to see the remarkable landscapes of Africa. There is something very cool about falling asleep at night, with a herd of elephants just 50 yards away from your camp.
Latest posts by Kraig Becker
(see all)