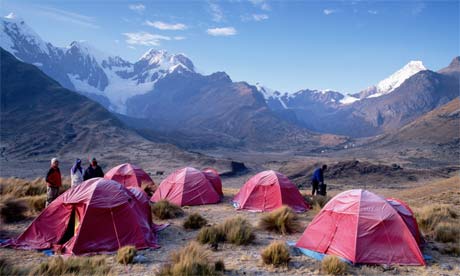 The Guardian is reporting today that the Inca Trail is sold out into September, and that the iconic South American hike will not be open to reservations until after that time. The Peruvian Government has instituted some new restrictions on the Trail in order to protect it and the environments through which it runs. In recent years the trail has continued to grow in popularity, and at times has become quite crowded, prompting the action.
Fear not though, as there are some excellent alternative hikes in the Andes that allow you to capture the same spirit of the Inca Trail, albeit with fewer crowds. The article recommends some of these lesser known trails and offers up advice on guide services for the alternative routes as well.
For example, they suggest the Salkantay Trail, which is best known as the "Back Door to Machu Picchu" as it ends at the same lost city as the Inca Trail. The Salkantay weaves it's way in and out of high passes and jungle valleys over the course of its 4 day journey. This trail is the most likely to get crowded next though, as it's the main alternative to the Inca.
Lesser known Andes treks are also provided, such as the Choquequirao, which is a longer trek matching scenery with cultural immersion, or the Cordillera Huayhuash which is located near the city of Huaraz and offers solitude and breath taking scenery as you march one of two routes near the Cordillera Blanca range.
Peru is considered one of the adventure capitals of South America, with it's proximity to the Andes and ancient ruins. Definitely a place worth exploring for a combination of trekking and culture. However, if you have your heart set on the Inca Trail, it sounds like you had better book it further ahead, or plan on going during the off season.
Latest posts by Kraig Becker
(see all)