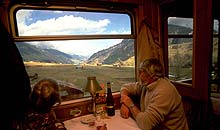 I've mentioned in the past how I would love to take an extended trip somewhere by train. There are a number of incredible trips that are best experienced by rail, such as exploring Madagascar or taking the sky train to Tibet, and the romantic nature of seeing the countryside as you casually role through scenic locations holds an undeniable appeal to me. Apparently I'm not the only one, as Mark Smith from The Guardian has compiled a list of five more great train adventures that you can do on a budget.
Mark's list will definitely inspire you to catch a train. His five picks are as follows:
• Auckland to Wellington on the Overlander (New Zealand)
• Coast to coast on the Canadian (Canada)
• Coast to coast with Amtrak (USA)
• Across Switzerland by Glacier Express (Switzerland)
• The Trans-Siberian Railway (Russia)
Each of these journey's holds a certain appeal. The Coast to Coast trips across Canada and the United States would be epic in length, and offer a glimpse into some very different regions. The Glacier Express across Switzerland would have to be breathtaking in it's views, as would the Overlander in New Zealand I'd imagine. The Trans-Siberian Railway is legendary when it comes to train travel, and would probably take the crown for being the most epic of all, combining distances and scenery.
The author has some great tips on how to book these trips, what they'll cost you, and what you can expect along the way. I can't imagine a better way to see a new location, and these five trips will give you some very cool locations to watch roll by as you make your way to your next destination.
Latest posts by Kraig Becker
(see all)