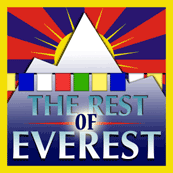 While we aren't getting a regular episode of The Rest of Everest this week, we're still treated to an excellent show none the less. This week's episode is an audio only debrief from the Annapurna IV Team, who are literally just off the plane from Kathmandu when Jon puts a microphone in front of them.
You'll recall that the Annapuran IV Team consists of Ben Clark, Josh Butson, and Tim Clarke. The trio set off a few weeks back to climb the 24,688 foot Annapuran IV and then attempt the first ski descent of that mountain. If you've followed their progress through their own dispatches or my updates, you know that poor weather put a damper on those plans, and despite their best efforts, the summit eluded them.
All three members of the team weigh in with their thoughts on the trip, climbing in general, and conditions in the Himalaya. It's fascinating to hear them recall the events of their journey, and talk about their experiences on the mountain. The episode is essentially three good friends, four if you include Jon as well, talking about their adventure and having a good time.
Next week we'll be back to regular episodes of the show, and what Jon assures me is "Everest Porn" when it comes to his amazing video work. But for now, this is a great break from the regular format that offers some great insights into mountaineering. Really great stuff.
Latest posts by Kraig Becker
(see all)