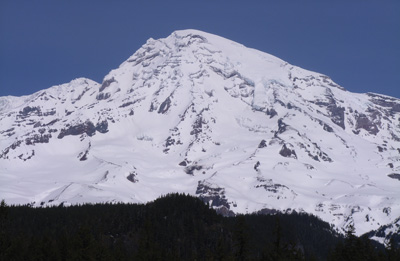 Adventure Journey Magazine has a well written article on their website about climbing Mt. Rainier, in which the author, Roland Redcane, reveals his personal motivations and experiences climbing the 14,410 foot mountain.
Roland first became interested in climbing when he was shown a photo of Everest taken from an airplane. Reading Into Thin Air only encouraged his adventurous spirit. Later, he had the chance to travel to Nepal, and hoped to see the mountain first hand, but bad weather conditions prevented that from happening. Still the mountains called to him and he had a desire to begin climbing.
After giving ice climbing a brief go, he later decided that he wanted to take a shot at climbing Rainier. The article recounts that climb, and gives insight to what it was like for Roland, a non-climber, to go up that mountain. One of the most well known and compelling in North America. With a day by day description of his climb, Roland offers up very good insights into what a beginning mountaineer should expect when setting out on such a trek. Namely, be prepared to suffer along the way.
An excellent read and definitely recommended for someone thinking of doing a Rainier climb or something similar.
Latest posts by Kraig Becker
(see all)