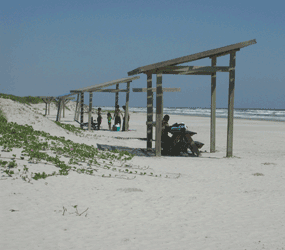 Outside Online, the official site for Outside Magazine has post their Great Escapes 2008, listing suggestions for 50 great spots for a close to home getaway.
Accompanying the list is an interactive map of the United States allowing readers to click on various regions, and then zoom in on individual states to see the great escapes that are close to where you live. For instance, when I place my mouse on Texas, it allows me to click and zoom in on the entire Southwest. From there, I can click once again on Texas where our one and only "great escape" is listed. In this case, it's Padre Island National Seashore located near Corpus Christi, TX. Hmm… not bad, but I can think of a number of better places here in the state.
Some states have more than one, while others have nothing at all, but using the interactive map, you should be able to find interesting places within a fairly short drive from where you live. The Midwest States seem to be the ones most likely to be left out in the cold however. Clicking on a number of them reveals the message: "There are currently no great escape articles on this state".
Still, there are plenty of excellent choices for a wide variety of outdoor activities. And now that the summer days are fleeting, and autumn is swiftly approaching, it's as god a time as any to head outside and enjoy the fine weather. So, find a good "escape" close to you and head out next weekend. After all, with the price of oil dropping back below $100/barrel today, it's at least a little more affordable than it's been the past few months.
Latest posts by Kraig Becker
(see all)