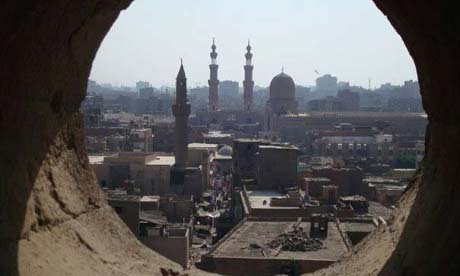 The Guardian's Travel section offers another great article today, this time it's all about exploring Islamic Cairo, far from the tourist destinations that garner most of the attention in that ancient city.
Typically, when visiting the bustling city of more than 20 million, most foreigners opt for the Egyptian Museum, a stroll through the Khan El-Khalili bizaar, and of course the pyramids and the sphinx. These amazing sites are of course wonderful, but they are also often packed with tourists, and offer very little in the way of modern cultural experiences in Egypt.
For a different experience, the article recommends visiting some of the many beautiful mosques, souks and minarets that put the countries Islamic heritage on display. While not quite as old as the ancient wonders you'll find elsewhere, some of these attractions date back to the 9th century, reflecting an entirely different side to Egypt's history. One that is often overlooked by visitors.
When I was in Cairo, we took a city tour, that showed us slices of the amazing history there. We of course took in the pyramids and other ancient attractions, but we also visited Coptic Cairo for a view of the Christian influence there, as well as a beautiful mosque that was breathtaking to behold. While traveling through various parts of the city, we also saw Roman aqueducts, crumbling city walls, hundreds of years old, and remnants of a civilization that has existed in the same place for more than 5000 years. For history buffs, it's simply amazing.
Combine this article with the one I posted a few weeks back on Egypt's "other treasures" and you'll have a well rounded experience in one of the most fascinating countries on Earth.
Latest posts by Kraig Becker
(see all)