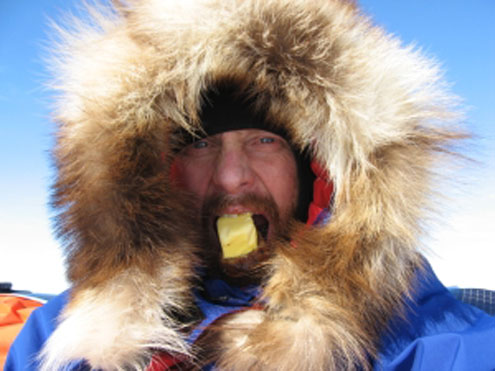 Lots of updates from the Antarctic today including news of a new speed record to the Pole!
We'll start, once again, with Todd Carmichael, whose latest dispatch confirms that he has indeed set a new speed record for going solo and unsupported to the South Pole. The previous record, held by Hannah McKeand was 39 days, 10 hours, 33 minutes, and Todd manage to sneak in under the wire at 39 days, 7 hours, 49 minutes. When put into perspective, that is the slimmest of margins. ExWeb put it into perspective by saying: "if the same difference was applied to the 100 meter dash, it would equal less than 0.02 seconds."
Reportedly, Todd is well on his way to recovery at the South Pole station, where he is awaiting a pick-up for the return flight to Punta Arenas. He's in good spirits and still assessing his accomplishment, and looking forward to being home with friends and family soon. Congratulations again Todd! Amazing job!
Today is Day 40 for the Shackleton Centenary Team as well, who have struggled over the past week on the Beardmore Glacier. Once off the Ross Ice Shelf, the team switched from skis to crampons to make headway, but soon found that the lightweight aluminum crampons they brought along were not up to the task. As a result, the slowed down to a crawl for a few days, spending more time repairing their broken equipment. That all changed today though, as they at long last made their way past the Shackleton Ice Falls, and onto the Polar Plateau, where they could once again don their skis. The results were 15.4nm of distance gained, and improved spirits all around.
Mark Langridge reached another milestone on his journey to the South Pole over the weekend, passing the 88th degree. It wasn't easy however, as much of it was uphill, and over massive sastrugi, that gave him fits for a time. He still managed to put up 15.3nm however, and reports that he has now found Todd Carmichael's tracks heading for the Pole.
The South Pole Quest Team continue to make good time, knocking off large chunks of mileage each day averaging around 20nm over the weekend and into the holiday week. The weather has been great, and their spirits are high, making for great days on the ice. The picture included with this post shows Richard Weber eating a stick of butter, which is a common stable for polar explorers who need all the calories they can get. (I prefer mine melted over popcorn by the way)
Mike Horn reports that the sastrugi that he is encountering are massive, and continue to grow in size, but despite all of that, he's still making great time as well. His latest dispatch says that he's had his best day yesterday, covering 29.5km or roughly 16nm. He's also encountered some very windy conditions, which have resulted in whiteout conditions at times, but this is nothing he hasn't encountered before, and won't slow the veteran polar explorer down in the least.
Finally, the Finnish Team looks to be the next to arrive at the Pole. Their most recent dispatch, from yesterday, had them still 85km out from their destination, but closing rapidly. They report a faster pace now, despite the weather and ground conditions varying more than ever, and with a little luck, they should arrive at the South Pole in time for Christmas. (They do know that Santa lives at the North Pole though, right?)
Latest posts by Kraig Becker
(see all)