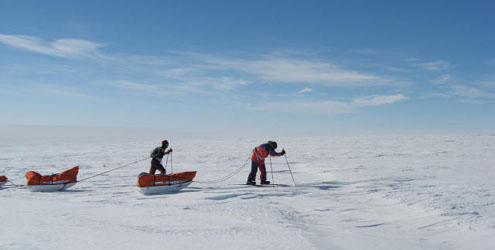 Lots of updates from Antarctica following a busy weekend in which the explorers seem to have settled in and are now keeping their eyes on the prize.
Todd Carmichael has remained strong and productive and continues to knock out the milage at in impressive rate. Over the weekend he was forced to pull his sled uphill for much of the way, but still managed to put up 17.5 and 18.1 nautical miles on Saturday and Sunday respectively. He also made another attempt to fix the broken bindings on his skis but to no avail, and he still continues on foot toward the Pole. Today he managed another 17.2 nautical miles, crossing through a nine mile long bowl filled with soft snow, which for a very demanding day. Remember, he's doing all of this on foot, pulling the sled behind him, and STILL putting up crazy mileage. According to this report over at ExWeb, he's now roughly 14 nautical miles behind the pace set by Hannah McKeand back in 2006. On his current pace, and nearly 14 days still to go, he should have no problem erasing that difference, provided he stays safe and the weather cooperates.
The Shackleton Centenary Expedition continues their long slog across the Ross Ice Shelf, and expect to take another five days to reach Mount Hope. They have also picked up speed, and have managed 15+ miles per day over the past few days. In their latest dispatch, Henry Adams addresses the question of what he wished he had brought along that he had left at home. In this case, it's sunscreen, as the intense Antarctic sun has left the team quite warm and sweating at times. In fact, the team notes that they could have easily slept outside today, but it was actually cooler inside the tent, so the elected to set them up anyway.
On Saturday, Mark Langridge crossed the 84th degree and reports that the ground has gotten much flatter for him, allowing a faster pace and easier skiing. He also says the weather is good and his supplies are holding out well, with plenty of food to replenish all those burned calories. Late last week while he was sliding along by himself, he did think that he had begun to hallucinate when he saw a dark shape in the distance, but upon approach, he was relieved to find a Snow Cat was in the area making fuel dumps. That had to be a strange sight after more than three weeks on the ice alone.
The South Pole Quest 2008 team is now a few days out and continues to make good progress and are hitting their daily averages for mileage. This crew is working in conjunction with schools back home to make an educational program out of their adventure, so visiting their website will provide you with some nice little Q&A sessions with the questions coming from students. It makes for a great primer for anyone new to these South Pole expeditions, with questions like "Are you transporting all your equipment on your back?" and "What is your typical day entail?"
The latest news from Mike Horn is that he's still making his way uphill and avoiding crevasses in the process. This has of course made for slow going, and the veteran polar explorer is longing to put on his skis. Mike's not in any rush however, and he's not after a speed record, so after his 7th day on the ice, he estimates he'll arrive at the Pole in 47 days.
Finally, Armin and Dieter are back in Germany after being airlifted last week. They are safe and sound and in good health and spirits, although they are still assessing how Antarctica has changed them. After the solitude and silence of the frozen continent, they are now "Back to Christmas markets, rules and regulations and financial crisis. Back in civilization". Around here we call that "Back to Reality"! Welcome home boys! 🙂
Latest posts by Kraig Becker
(see all)