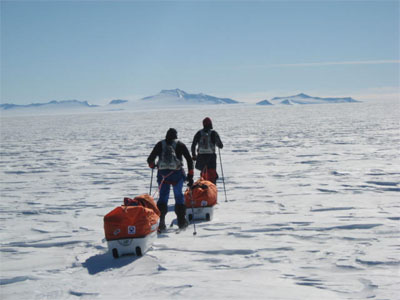 More news from Antarctica today as the explorers continue their march to the Pole.
We'll start, as usual, with Todd Carmichael, who knocked off a mind-blowing 23.1 nautical miles today. For those that don't know, that's a huge number for a single day in these conditions and pulling a heavy sled. He's also approaching the 85th degree south, and is now in site of the Thiel Mountains, the first real landmark in this featureless landscape. That means he's roughly half-way to his goal. A few days back, ExWeb reported that Todd was roughly 10 nautical miles behind the record pace of Hannah McKeand back in 2006, but his home team now reports that that number is closer to 23 miles. Their quote reads: "Only nine days ago Todd was 43 nautical miles behind the record pace. He has cut this deficit almost in half and now sits just less than 23 miles back." A few more big days like this one, and he'll be nipping at Hannah's heels however.
Most of the polar explorers are reporting better weather conditions these past few days, including Mark Langridge, who describes the -10º C conditions as "balmy". On his 22nd day on the ice, Mark has now logged roughly 250 miles so far, and has climbed approximately 5100 feet in elevation. 1500 of those came in the past two days. That's made for slow going, but he still has another 3900 feet to ascend over the course of the next 400 miles before he reaches the Pole. Mark was also sent encouraging words from fellow countryman Hannah, who gave him advice on what to expect in the days ahead and the wise words of "just keep putting one ski in front of the other".
The Shackleton Centenary Team has picked up their pace as well with the good weather out on the Ross Ice Shelf. The boys are now more than a quarter of the way towards their goal, and continue to be in good spirits overall. The past two audio dispatches take a look back at the original Shackleton Nimrod Expedition that took place 100 years ago. At this point in that journey, the expedition's ponies began to experience difficulty in the harsh conditions and deep snow, with the first of them perishing on this day back in 1908. These historical contexts that the team mixes into their dispatch are great for reminding us how far we have come.
Mike Horn has now been out of Hercules Inlet for four days, and in his last update yesterday he reported high winds. So much so that he thought that he might not be able to pitch his tent in those conditions, and would possibly be forced to stay put today. No update makes me think that he's probably out on the trail though and will report in later.
Other brief updates include the word that the South Pole Quest Team expected to get underway today, while Armin and Dieter have now been successfully airlifted back to Cape Town, where they immediately had to go shopping for cooler close. Remember, it's spring in the Southern Hemisphere. Thomas Davenport sent a new dispatch yesterday comparing his days on the ice with the move Groundhog Day starring Bill Murray and the South Pole 2008 Team are waiting for an airlift to tae their ailing doctor back to Patriot Hills. The note that "Australian doctor Jill Maxwell has been struggling with the conditions" and has made the choice to leave the expedition.
More news as it comes in. Everyone out on the ice stay safe!
Latest posts by Kraig Becker
(see all)