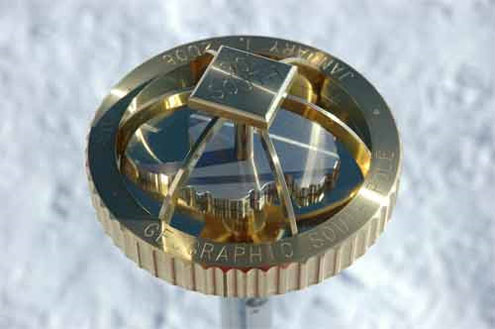 Looks like Todd Carmichael isn't the only one to set a new speed record to the South Pole this season. The latest updates from the South Pole Quest Team indicate that they reached the Pole this morning, covering the distance from Patriot Hills in just 33 days, 23 hours, and 33 minutes. Of course, Todd's record still stands for it's solo and unsupported qualification, but this is still quite an impressive feet. The guys will now get some much needed rest, and promise to post many photos from their journey in the next couple of days. Congrats to Ray, Kevin, and Richard!
The Shackleton Centenary Team, meanwhile, continues to forge ahead with much better weather today than yesterday. They've now been out on the ice for 55 days, and are on track to reach the 97 mile marker, Shackleton's "Furthest South" point, on Friday, when they'll be joined with the second half of the team who will ski the rest of the way to the Pole with them.
Mike Horn suffered another windy day, his 38th since setting out from the coast, and struggled pulling his sled through heavy snow. He does report clearer weather conditions however, and colder temperatures to go along with them. Mike is also going on just 4 hours of sleep the past few nights as he continues to try to keep up his pace in hopes of reaching the Pole on schedule. Remember, once there, he'll turn around and head back to where he started again too.
Finally, ExWeb is reporting that a plane crashed in the Antarctic yesterday, fortunately without any fatalities. The plane was delivering spare parts to a British expedition, and was carrying a crew of three plus a Russian explorer as well. All four men have since been evacuated from the ice.
Latest posts by Kraig Becker
(see all)