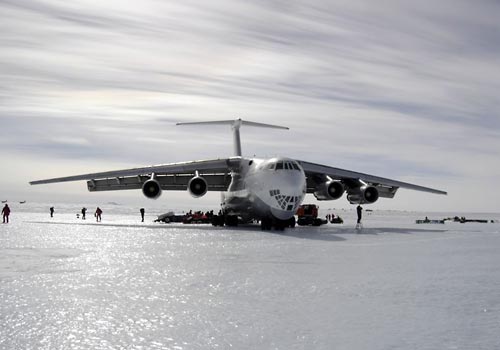 This will most likely be the last of the Antarctic Updates until the season begins the Fall. Fans of the Polar expeditions need not fear however, as the Arctic season will begin shortly.
The biggest news is that Patriot Hills has closed for the season. The last Ilyushin flight, conducted by ALE, was scheduled to take off at Midnight, January 28th, closing off that section of the ice for another season. By all accounts, that flight took place, and Patriot HIlls is now deserted.
There are a few expeditions still on going, but they are taking place mostly on the periphery of the continent. Everyone has completed their journey to the Pole itself, and are now off the ice and presumably home or in some tropical climate, enjoying the warm sun and a cold beverage.
Well, except for Mike Horn, who returns to his ship the Pangaea and will continue on his Pangaea Expedition that is expected to last for another three and a half years. Mike was one of the last men off the ice, after he made a mostly solo and unsupported trek to the Pole. He was attempting to kite back to Patriot Hills, but came up a bit short, no thanks to a broken ski binding, and a Twin Otter plane had to be dispatched to pick him up so that he could catch the last flight out to Punta Arenas. By now, he's probably back aboard his ship, and plotting his next destination.
And so, that about wraps it up for another season down at the bottom of the world. As cold as it is there now, it's going to get worse in the months ahead. But come November of this year, you can bet there will be some intrepid, daring souls heading back out to challenge the continent and themselves. I already know of a few are planning to do just that.
Latest posts by Kraig Becker
(see all)