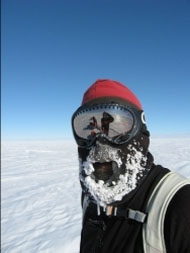 It's an end of the week Antarctic Update, with plenty of news, as usual, from (way) down under.
I'll start, as I have regularly this Antarctic Season, with Todd Carmichael, who is safe and sound back home in Philly, and has now had some time to reflect on his accomplishments. In his most recent post to his website, he talks about how challenging it was for him to break the speed record to the South Pole, and how reward it all is, now that he's had the chance to look back and reflect some. He has also, tentatively announced a new adventure, although it's not official yet. Todd intends to next solo and unsupported across the Namib Desert, covering more than 700 miles of open dunes, and possibly doubling the world distance record. Expect to hear more about this in the near future. He also promises to share some photos from the ice tomorrow, so be on the lookout for those as well.
It's Day 50 for the Shackleton Centenary Team, who continue their long, slow, steady march to the Pole as well. The team is sticking to their prediction of a January 9th arrival date at the Pole, as the knock off another 14.6 nautical miles today. if you haven't heard their audio report for today yet, definitely give it a listen, as team member Henry Worsley gives a very funny and graphic run down of the teams various ailments. It had me chuckling in my seat on more than one occasion. 🙂
The South Pole Quest Team keeps chipping away at the mileage as well, covering 20nm today alone. They seem to be in high spirits, and getting along well. They do report that the altitude has begun to take it's toll a bit, and the snow is getting deeper, which is fine for the two team members on skis, but has made it tougher on Ray Zahab, who is traveling on snowshoes. Today's question for the team is a rather easy one, as a teacher has asked "Can you keep us posted on the wildlife you encounter?" I can spare you the audio answer on this one as, there is obviously no wildlife to encounter on the Antarctic interior.
Finally, Mike Horn is also struggling with deeper snow, and it's slowed his progress some over the past few days. He is closing in on the 87th degree however, but still has 395 km to the Pole where of course he'll rest, and turn around and head back to the coast. The man is a glutton for punishment. 😉
Latest posts by Kraig Becker
(see all)