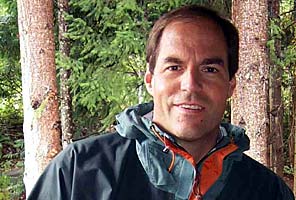 Alan Arnette stays on a roll, kicking off the week with a good interview on his Everest 2009 page with Eric Simonson, the man behind International Mountain Guides, one of the top guide services on the South Side of Everest.
In the interview, Eric talks about the challenges of running a mountaineering company like IMG, where he has to balance guiding with customer service, and more. He also shares his thoughts on "green" climbing on Everest, saying that it's difficult to call anything about climbing the mountain "green", but steps are being taken to improve that where ever it can be done. He even touches very briefly on what he expects out of the Discovery Channel crew that will be joining the team to film the next edition of Everest: Beyond The Limit.
All told, another good interview with one of the key players on climbing on the South Side, if not the entire mountain itself. As Alan notes, IMG has an impeccable safety record, not only on Everest, but plenty of other mountains as well, including all of the Seven Summits. Good luck to the IMG team once again this year, and I can't wait to see you on Discovery in the Fall.
On a different note, in yesterday's post to his Everest page, Alan wrote that many of the climbers will be setting off on March 25th for Kathmandu, which is just a bit over two weeks off. It's hard to imagine that another year has nearly come and gone, and we're ready for a new Everest season to begin. To all those climbers who will be finishing up their packing and final preparations over the next few weeks, don't forget to pack your toothbrush!
Latest posts by Kraig Becker
(see all)