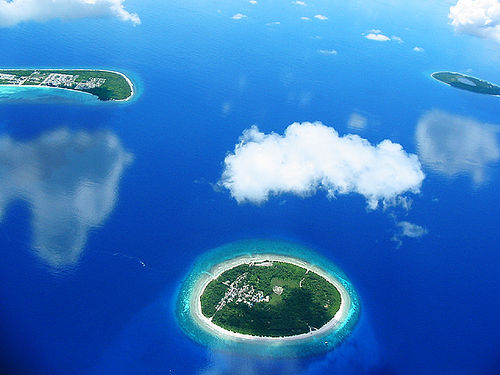 The man who never stays home (at least not for long), Jon Bowermaster is off once again, this time to the Maldives, where he is investigating the impact of rising sea levels on the tiny island nation which consists of more than 1200 islands spread out across the Indian Ocean south-west of India itself.
Yesterday Jon made his first dispatch from the Maldives, where the President has announced that he intends to make the country carbon neutral by 2010. The islands are a tourist paradise, and the place gets much of it's revenue from the tourism business, so the emphasis will shift now to ecotourism and a move away from fossil fuels and toward wind energy and solar power.
Predictions for the future of the Maldives are dire. With global climate change causing the polar ice caps to melt and sea levels to rise, the entire nation could be underwater by 2100. Because of that outlook, I put the country on my list of five places to see before they're changed forever, which I wrote at Gadling a few weeks back. If things continue as they are now, 80% of the islands could disappear before the end of this century, meaning that many of the 400,000 people who currently live there will be forced to find new homes.
Jon will be touring the area by boat and float plane over the next two weeks. Look for more dispatches on what is happening there right now in the days ahead. And be sure to checkout Jon's newly re-launched website, which has a great design, access to an amazing amount of information, and a simple to navigate layout. My favorite new feature? The "Where is Jon?" tab in the upper right corner of the home page. It tells me where he's off to in his ongoing adventures.
Latest posts by Kraig Becker
(see all)