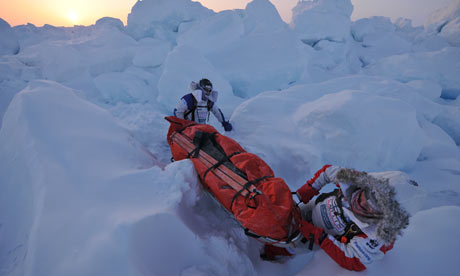 Clear skies are both a welcome sight and a scary one in the Arctic, where the Catlin Arctic Team are reporting that the have nothing but blue skies overhead, but that means the temperatures have plummeted back to the -40º range. Those cold temps were especially troublesome for Martin Hartley, who had to have a needle removed from his bum. Apparently the needle was left behind following some mending done to clothing, and it became embedded in his backside, requiring a pliers to remove it. (Ouch!) The team continues to be happy with their progress otherwise, and their mission to gauge the health of the Arctic ice seems to be going quite well. Team members Pen Hadow, Ann Daniels, and Martin are using a special ground penetrating radar to examine the age and thickness of the ice to determine the effects of global warming on the region. These readings take time, so they are not expecting to reach the North Pole for more than two months yet.
The Victorinox North Pole Team are reporting that they got some "free mileage" thanks to positive drift while they slept. When they checked their position this morning using their GPS, they found that over night they had drifted both north and west, although mostly north. The boys picked up half a nautical mile while resting, which is certainly good for the moral. They also report clear conditions and very low winds, making for great skiing conditions and an over all great day out on the ice. Progress is slow, but solid. The team members, John Huston and Tyler Fish, are hoping to become the first American team to go unsupported to the Pole.
Finally, the Peary Centennial Expedition continues their journey to the Pole as well, and also had a bit of positive drift, gaining 3/4 of mile while they slept a few days back. They're also happy to see the clear skies and low winds, but say the temperatures have dropped for them as well. In the latest audio update, released a few days back, Lonnie Dupre calls in to give an update and discuss the Arctic Treaty situation, discussing the challenges of establishing and maintaining a treaty that really only covers a patch of water that just so happens to have a large platform of ice over it. Quite an interesting discussion.
Stay warm up there everyone, and keep your eyes peeled for the polar bears. 🙂
Latest posts by Kraig Becker
(see all)