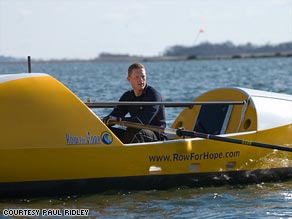 According to CNN.com, 25-year old Paul Ridley has completed his solo row across the Atlantic, taking 88 days to make the journey.
According to the story Ridely would row as much as 12 hours per day, as he made his 2950 mile journey across the Atlantic Ocean. Even more amazing, the young man crossed the pond without a support vessel following in his wake, and in the process he became the youngest American to make that journey, and just the third person from the U.S. to do so at all.
Paul rowed in a custom made boat that he and his sister spent $60,000 having built. Back in 2001 their mother passed away from skin cancer, and Ridley dedicated this row to her and to raising funds for cancer research. His website, RowForHope.com, has more information about Paul, his cause, and ways that we can all help out.
Ridley says that he is happy to be home and off the water, and will now take some time to rest up and regain his strength. But he also says that there is a lot to be accomplished yet, and that he'll soon be back to work trying to raise funds and awareness for cancer research.
Congrats Paul! Awesome work. Glad you're home safe and sound.
Latest posts by Kraig Becker
(see all)