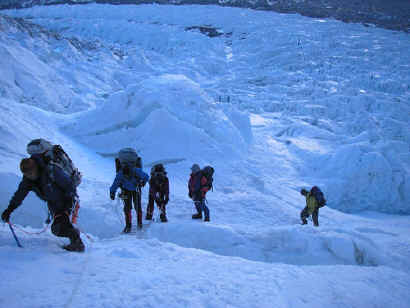 It's been another busy couple of days in the Himalaya, where things continue to progress on mountains all over the region.
Probably the biggest news out of the Himalaya is that it looks like the summit of Manaslu could well be a busy place tomorrow, with potentially 20 people topping out. ExWeb is reporting that summit bids were turned back yesterday when climbers reached a 300 foot vertical ice wall at 7100m. The wall is described as very technical and demanding, requiring teams to put up new fixed ropes, which slowed down the progress. It was too late in the day yesterday for that to happen, so the ropes were installed today, and everyone will take their shot at the summit tomorrow. Good luck everyone! Climb safe!
ExWeb is also reporting that Joe Puryear and David Gottlieb have reached the summit of Lunag Ri, and have also safely returned to base cam, completely the first ascent of that mountain. The 6907m mountain was the highest unclimbed peak in the Himalaya that was also permissible to climb. There are other, taller, unclimbed mountains, but no permits are issued for them due to cultural or religious restrictions. Congrats to Joe and David for the for reaching the top and getting back down in one piece.
Switching focus over to the Big Show, Alan Arnette is reporting that weather conditions have changed on Everest, with high winds shifting to the area, blowing things all over the mountain. On his Everest 2009 page, Alan talks to Michael Fagin of EverestWeather.com, who tells us to expect the warmer than normal temperatures on Everest to continue into May, but that it is far too early to say if the mid-month weather window will open up as expected.
The Peak Freaks posted a new blog update, and they weigh in on the windstorm hitting the area. The whole team is currently back in BC, and there is a real fear that the high winds will blow C2 off the mountain. For now though, they'll have to sit and wait and see what happens. They also report that their weather sources are telling them to expect heavy precipitation beginning around the first of May.
Meanwhile, the IMG team, who updated their dispatches this morning, with the news that their Sherpa team is now up at C3, where they are caching supplies, including three more tents. They also note that winds have died down some today, making it a bit more comfortable on the mountain.
Finally, Ben Clark, Josh Butson, and Jonathan Miller, the team that has targeted the 23,390 foot Baruntse in their attempt to Ski The Himalayas reached base camp on Friday. Ben calls it the most spectacular BC he's been in since first coming to the Himalaya seven years earlier, with great views of Lhotse, Everest, and Makalu. Ben also reports that everyone is feeling great, and are ready to go, but that they are taking a little down time to rest and acclimatize before they start scouting the mountain. If all goes well, in a few weeks time, they'll be making their way up to the summit, and then making the first descent by skis as well. Sounds like fun!
Latest posts by Kraig Becker
(see all)