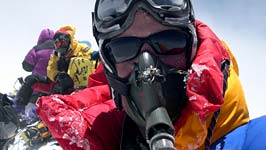 Lots of action on Everest again today, with more than 100 climbers expected to have headed up the peak from both sides of the mountain.
We've already heard from the IMG team today, with the news that astronaut Scott Parazynski successfully summitted, as did three women on the Singapore Women's Everest Team as well. All told, with clients and guides, IMG put 15 people on top of the mountain.
Meanwhile, Billi Bierling has turned over her blog to a friend while she begins her summit bid with Himex. They have left Camp 4 and are making their move on the summit as I write this, with a Discovery Channel camera crew in tow of course. Discovery has already posted video from the summit caught on their infamous "Sherpa Cam". Good stuff!
Apa Sherpa and his team have left the South Col for the summit as well. If he successfully reaches the summit, it will be his 19th time on top of the world, extending the record he already holds for the most by anyone person. The entire group left C4 at 9:15PM local time.
Summit Climb is reporting in from the North Side that five clients and five Sherpa topped out earlier today from the Tibetan side of the mountain. They go on to say that the weather was perfect, and nearly windless, and the climbers were on their way down to C3, with a second wave in place to go up tonight.
The Peak Freaks seem to have straightened out the issues they were having with their web server and are now posting updates again. They report that they successfully put 14 climbers on the summit yesterday and, and they are all down, and safe, in C2 today.
Finally, check out the video below from First Ascent. It is of Peter Whittaker calling in from the summit a few days back when he, along with Ed Viesturs, Jake Norton, and a few other team mates finished their climb. Good stuff.
Latest posts by Kraig Becker
(see all)