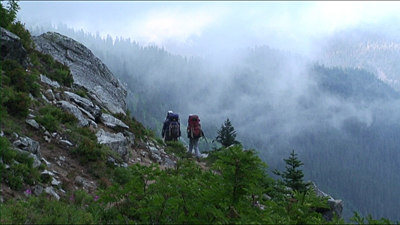 Awhile back I posted a link to a story from Trailspace.com that gave an amazing number of tips for backpackers who were considering doing a long distance hike, such as the Appalachian or the Pacific Crest Trails. The article was the first of a four part series on planning and preparing for just such a trek. Trailspace has now followed up with parts two and three as well.
Part Two continues the series nicely offering up some thoughts on how to plan on being away from work, friends, and family for the extended time necessary for a long distance hike. It also talks about who should and shouldn't do one of these epic trails to help you decide if it is right for you, and goes on to share some thoughts on options for food on the trail, packing your bag, dealing with water, and a lot more.
Part three moves away from some of these logistical issues and discusses some practical ones, with more solid advice on staying healthy on the trail, not taking chances, and so on. It also offers up some insights about long distance hiking in general that can be applied to just about any trail, whether you're out there for three days or three months. Those bits of wisdom include things such as "the journey is the destination" and so on. Good things to keep in mind when you're setting out on any journey.
So far, this has been an excellent series to read, and I definitely recommend it to hikers of all levels. I pretty much guarantee that you'll find something of interest and probably learn something in the process too. Really good stuff and I can't wait for the final installment.
Latest posts by Kraig Becker
(see all)