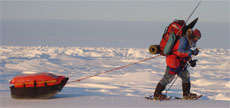 Polar explorer, endurance athlete, and all around adventurer Ray Zahab is preparing to set out on yet another expedition. Ray will be joined by Kevin Vallely, who has an equally impressive adventure resume, as the duo take on one of the most remote and harshest environments on the planet in a bid to raise funds for water projects in Africa, while connecting with thousands of students in the process, all as a part of the amazing impossible2Possible organization.
The expedition is dubbed the Siberian Express and it will see Ray and Kevin running the length of Lake Baikal, a distance of more than 650km (403 miles). The two men will be making the journey unsupported, which means they'll be pulling all of their gear and supplies behind them, but despite those heavy loads, they expect to travel somewhere between 65 and 70 km per day, or about 40 miles, over the frozen lake, which sits in Russia's southern Siberia region.
The goal of the expedition is two fold. First, they hope to raise enough funds to complete two clean drinking water projects in Africa, working in conjunction with the Ryan's Well Foundation and GivingWater.org. The second goal is to educate and engage students about the water crisis, and get them to help in the process. By the time the expedition gets underway, the i2P Experiential Learning Program expects to be in contact with between 8000-10,000 students from around the world through educational modules, live streaming video conferences, and Q&A sessions. Those same students will be the ones helping with the fundraising efforts by organizing their own bake sales, raffles, car washes, and so on.
The site of the expedition, Lake Baikal, is the largest freshwater lake in the world, covering some 12,248 square miles of area. It is also the deepest lake as well, averaging 2442 feet of depth and stretching as far down as 5390 feet down at its deepest point. Baikal holds roughly 20% of the world's freshwater, and in the very cold Siberian winters, it freezes solid, allowing expeditions such as this one to traverse it's length.
As if this expedition wasn't enough, i2P is also busy putting together the second leg of the Word Expedition that will have a team of youth adventurers running across Tunisia. Stay tuned for more information on that project in the future as well.
Latest posts by Kraig Becker
(see all)