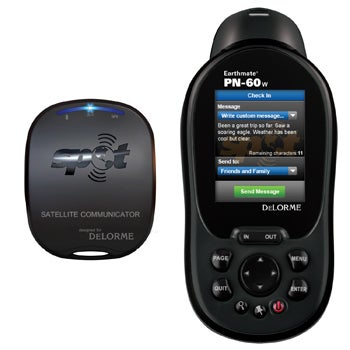 We're on the eve of the annual Consumer Electronics Show, when all kinds of new, hot gadgets and gizmos are unveiled to the public who can't wait to get their hands on the latest technology. Everything from new TV's, computers, and home theater systems will be on display in Las Vegas, with impressive price tags to go along with the flashy new products.
One new item that may be of benefit to outdoor enthusiasts, adventure travelers, and explorers heading to the ends of the Earth. The new device comes to us courtesy of GPS company DeLorme and SPOT, who have teamed together to create the DeLorme Earthmate PN-60w which is paired with a SPOT Satellite Messenger, and allows us to send custom text messages from remote places not typically covered by cell phone service.
The Earthmate offers up a bunch of standard GPS functionality including a 32-channel GPS chipset, a dual-core processor, 3-axis electronic compass, sensitive barometric altimeter, elevation profiles, and GPX file transfers. How much it will cost, and what the price of the service from SPOT will be, remains to be seen, but when the two devices are used in tandem, they'll be able to send text messages, signal emergency services when necessary, and allow others to track your progress as you go.
According to this story at the PC World Blog, both DeLorme and SPOT have more connected devices to show off at CES, so expect to see some similar deices in the days ahead, and have pricing announced too.
Very interesting and potentially useful products. The ability to send a message back from the wild has some great promise, and I can't wait to find out more about this.
Latest posts by Kraig Becker
(see all)