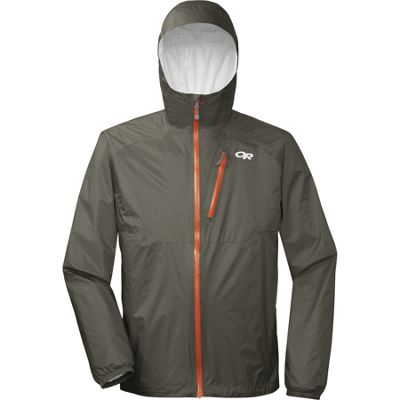 Several months back I had the opportunity to test out a number of great gear items from Outdoor Research. At the time, I wrote a glowing review of the products that they sent my way, but little did I know that over time I would become even more impressed by those gear items. In fact, they are now amongst my most commonly used apparel when I head out on a trail, go climbing, or just kicking around town. That's why I was so excited when I recently received a new OR Helium Jacket to review, although that jacket would have a lot to live up to from the other OR gear I was already using.
The Helium is a lightweight storm shell, and when I say lightweight, I mean very lightweight. In fact, the jacket is so thin that I actually had to weight for some warmer days before I could actually wear it and test it out. It has been unseasonably cool here in Austin, and while the Helium provides good protection from wind and rain, it isn't the warmest jacket in the gear closet. That said, it isn't meant to be either. This is the kind of jacket that compresses down to a very minimal size, and fits in your pack, without you realizing it's even there, until you need to break it out.
Weighing just 6.8 ounces, the Helium is never-the-less, both waterproof and breathable, which is a great combination in any shell. Along with our unseasonably cool weather here in Texas of late, we've also had plenty of rain, and this jacket has weathered those conditions perfectly, keeping me dry, and comfortable in everything from a steady mist to a downpour. The water resistant zippers also worked well in all conditions and the hood served as a fine replacement when I managed to forgot my umbrella.
Like all the products I've used from OR, the Helium shows an excellent attention to details. For instance, the inside the zipper is a stormfap which helps to further prevent water from getting inside, and the stuff pocket is conveniently located on the inside of the jacket, which also makes for an excellent place to store small items that you want to keep dry as well. My iPod Nano fit in the pocket quite nicely, and continued to play away while the rain fell.
Perhaps best of all, this lightweight jacket does not constrict or hinder movement in any way. It is equally effective hiking a trail as it would be hanging on a rock face or in the seat of a kayak. On top of that, it looks good too. The first day I wore it out and about in town, I had a number of people compliment me on how it looked. While that's not much of an indication on how it performs, nothing says you can't hit the trail in style. 🙂
Outdoor Research's logo is "Designed by Adventure" and personally, I think that's pretty accurate. While it remains a somewhat lesser known brands when compared to the likes of Patagonia and the North Face, it's is second to none in performance, fit, and function. The Helium definitely continues that tradition. (MSRP: $140)
Disclaimer: The Helium Jacket was provided to me by Outdoor Research for this review.
Latest posts by Kraig Becker
(see all)