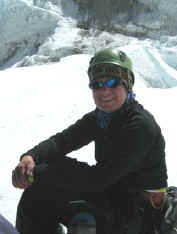 With the fixed lines on the South Side of the mountain in place all the way to the summit, a couple of daring climbers took advantage of a narrow weather window, and made a dash for the top of Everest today, recording the first two non-Sherpa summits of the season in the process.
According to Alan Arnette, independent climber Domnhall O'Doughartaigh and Lucille deBeaudrap, who is climbing with the Peak Freaks, reached the summit along with their Sherpa guides, Pemba Sherpa and Tshering Sherpa. Reportedly the four climbers set off at 7 PM last night and summitted at 6 AM this morning, local time of course.
The latest report from Peak Freak says that Lucille is back in Camp 2, and resting comfortably, and presumably Domnhall is down safely as well. Lucille hopes to go down to BC tomorrow after resting today in C2, but her status will be evaluated in the morning to see if she is strong enough to continue down the mountain. Congrats to both Lucille and Dom for a job well done.
Also of interest in the same update from Peak Freaks team leader Tim Rippel is that he has called all of the members of the team back to BC no later than May 11th. Some of the team members are further down the Khumbu Valley, resting and taking in the thicker air. That May 11th date may signify that the team will be making their proper summit bids next week on or around May 13th as was predicted yesterday.
Meanwhile, on the North Side of Everest climbers are remaining patient. The fixed lines are not yet completed, having just reached Camp 3, and thanks to the poor weather there, things have fallen a bit behind schedule. Unlike on the South Side, where Himex, Alpine Ascents, and IMG all worked together to fix the ropes, those duties fall on the Chinese-Tibetan Climbing Association. As of now, the ropes are in to 27,300 feet, which means there is considerable work to still be done. Hopefully the weather will begin to cooperate soon, and climbers will get their crack at the summit from the Tibetan side too.
Stay tuned. Things are just starting to heat up, and it should be very busy on the South Side next week. In the meantime, don't be surprised if we don't see a few more climbers make a dash to the summit of either Everest, Lhotse, or both, in an effort to beat the crowds.
Latest posts by Kraig Becker
(see all)