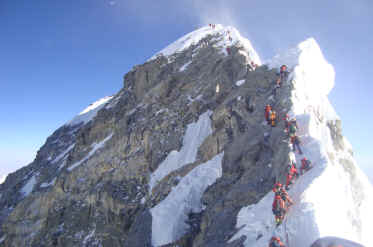 As I mentioned a few days back, it seems that there are a number of teams that are preparing to make a summit bid on the South Side by the end of this week, while others are content to hold off, and wait for a more solid weather window. The reports from the mountain today suggest that there are high winds on the upper slopes, and that is currently preventing most of the teams from going above Camp 2. But the climbers who are there are banking on a short weather window, set to arrive in the Friday/Saturday time frame, that they hope will give them enough time to dash to the summit. Most of these climbers are hoping to avoid the traffic jams that will inevitably come when the larger commercial teams begin their ascents.
Alan Arnette is reporting today that there is currently a race under way to the summit. Quite literally! Two Finnish women are both hoping to become the first from their home country to stand on the summit, and now they're jockeying for position to see who will claim that honor. 30-year old Anne-Mari Hyryläinen, climbing with Sky Climbers and Carina Raiha with Peak Freaks, are both currently in Camp 2 waiting out those winds, and looking for an opportunity to go higher. Carina began her summit push yesterday morning, getting the jump on Anne-Mari, but thanks to those winds, that head start has been neutralized. Now they both sit, and wait, for their chance. My recommendation to both of them? Go up together!
Meanwhile, Alan also quotes several team leaders who are waiting out this early round of summits for a more solid weather window. Most of the forecasts seem to indicate that the very narrow window is set to open on the 16th and 17th of the month, but some believe that the window will probably slam shut before anyone can take advantage of it. Does that mean we can expect all of these teams to be coming back down to Base Camp? It seems quite likely at this point.
Things are still looking kind of grim on the North Side of the mountain, where the bad weather, which includes snow, high winds, and very cold temperatures, continues to keep the climbers in Advanced Base Camp. The lines still aren't fixed to the summit, and only go as high as Camp 3 at this point, so the waiting game continues.
But there does appear to be hope on the horizon. The SummitClimb Team reports that a major Chinese-Tibetan team left for C3 today with the hope of fixing the lines all the way to the top sometime this week. The weather forecasts are also predicting a shift in weather patterns, at long last, that could possibly give the teams an opportunity to make their summit bids sometime around the 22nd of the month.
I know there are a number of climbers on the North Side that are hoping those predictions hold true.
Latest posts by Kraig Becker
(see all)