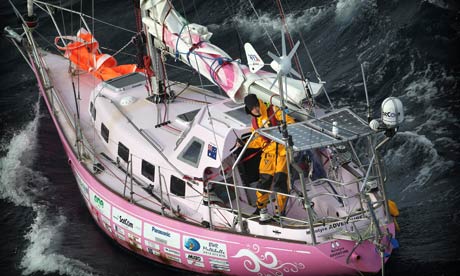 For a number of months we've been following Jessica Watson and Abby Sunderland as they both have attempted their daring solo circumnavigations of the globe in the hopes of becoming the youngest to achieve that goal. Both of these remarkable young ladies are just 16 years old, and both have had quite the adventure out on the open seas. But now, one is closing in on the finish line, while the other takes a break for some much needed repairs.
The biggest news at the moment is that Jessica is now just hours away from completing her solo sail around the world. She is expected to arrive in Sydney, Australia sometime tomorrow, with thousands of well wishers on hand to welcome her home. Jess began her voyage back in October, and hasn't stepped foot on land since, but she is now looking forward to meeting friends and family when she sails into the Sydney harbor tomorrow.
Of course, there is already some controversy brewing around the completion of the journey, or at least at any records she would hope to claim. The World Sailing Speed Record Council has already said that they would not recognize her as the youngest to sail around the world, as they have a strict policy that those who attempt that journey should be at least 18 years old. But perhaps more importantly, there are some who say her voyage wasn't long enough to be considered for any speed records either. Jessica's route is some 2000 miles shorter than what is a typically considered for those kinds of records, and while she did go above the equator, as the rules for these types of expeditions require, she didn't spend much time in the Northern Hemisphere.
Still, the question is does it really matter? I'm guessing it doesn't mean a think to Jess, who is completing this journey for herself and for the epic adventure. She may not go into some of the official record books, but she finished what she set out to do, regardless of what some of the old sea dogs think about her route.
Meanwhile, Abby Sunderland reached Cape Town, South Africa last week, and has spent several days there having her boat checked out. She limped over to Africa thanks to a failing autopilot that has been giving her problems almost since her voyage began. Divers have also inspected her ship, the WIld Eyes for damage, and while they found a few minor things, there hasn't been anything significant to repair. They did clean out some sea weed from the prop, which may have been causing minor engine issues, and they've patched some scratches on the hull, but nothing significant has been discovered.
Abby's brother Zac has been spending time with her in South Africa, but is heading home today. Zac completed his own round-the-world sailing trip last year, inspiring his sister to follow in his wake. With the repairs done, and Zac headed out of town, Abby will now wait for a weather window to return to the sea. She expects that to happen on Tuesday, so soon she'll be back out on the water as well.
Because she stopped for repairs, Abby is officially out of the record books as well, as these solo circumnavigation attempts are suppose to be non-stop. Regardless of that rule however, Abby is actually younger than Jessica, and probably wouldn't have been officially recognized for her achievement either. The course she selected is longer however, and will probably fulfill the requirements in that area at least. Abby has reiterated however that she is not doing this for records either. She is doing this for herself and will continue on her voyage despite having to stop for these repairs.
You certainly have to admire the adventurous spirit these two young women have. I want to congratulate Jess for finishing her journey and wish Abby well on the next leg of hers.
Latest posts by Kraig Becker
(see all)