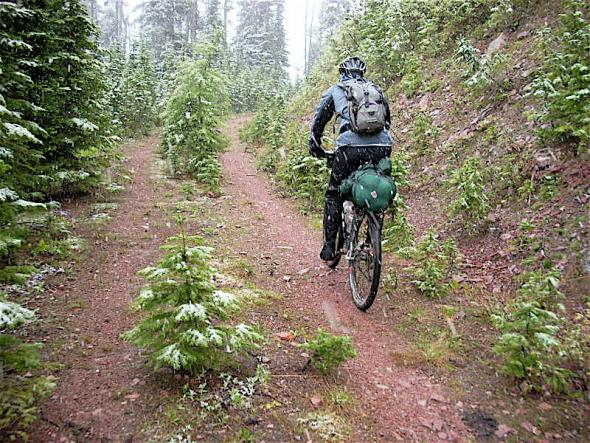 The 2745 mile long Tour Divide mountain bike race gets underway today in Banff, Alberta, Canada, and will then run the length of the Great Divide Mountain Bike Route through the U.S., before ending in Antelope Wells, New Mexico. Along the way, the riders will be tested by challenging trails, weather conditions that run the gamut from blizzards to heat waves, and unexpected encounters with local wildlife that can include everything from rattlesnakes to grizzly bears.
The Tour Divide has been called "the world's toughest bike race", and for good reason. The riders must go complete self supported, carrying all of their gear and supplies with them. They'll also have to endure many long days of 16+ hours in the saddle, while taking on mountain passes and difficult altitude. in total, they'll gain nearly 200,000 feet in altitude over the course of the ride, which through some of the more remote backcountry in the U.S.
The Great Divide Mountain Bike Route is considered the longest off pavement cycling route in the world. The trail ranges from single track to jeep trails, with just about everything in between, but it also remains unmarked, forcing riders to be able to navigate properly as well. Beginning in Banff, the route wanders through Alberta and British Columbia, before entering the U.S. and continuing south through Montana, Idaho, Wyoming, Colorado, and finally New Mexico.
To give you an idea of the quality of athletes in this race, last year's winner was Matthew Lee, who covered the entire 2745 mile course in just 18 days. That's averaging more than 152 miles per day over some really tough and unforgiving terrain. That would be a challenge on any given day, let alone for two and a half weeks in a row. Very impressive stuff.
Latest posts by Kraig Becker
(see all)