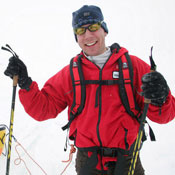 We've been following Eric Larsen and his Save the Poles Expedition for months now. It all got underway last fall when he set out to ski to the South Pole, which he successfully accomplished just a few days into the new year. Then, this past spring, proving that he loves to suffer in cold climates, Eric made the journey to the North Pole as well. This fall he'll make an attempt on Everest, where he hopes to claim the Earth's "third pole", becoming the first person to visit all three in a single calendar year.
At the recent Outdoor Retailer show, which ended last Friday, Alan Arnette caught up with Eric, and had a chance to interview him about his adventures, but the ones that he's already accomplished, and the ones that lie ahead.
In this article, we learn more about his polar journeys, what drives him to go to these extreme places, and how he is preparing for Everest. As of now, Eric has never been above 8000 meters, and he is busy training at altitude in Boulder, Colorado in preparation for the climb. He does have some mountaineering experience, but nothing in the big Himalayan peaks. His insights into how a mountain expedition is different from the polar ones is quite interesting as well.
I'm looking forward to following Eric on Everest. The Fall Season is always a lot more quiet than the spring, and his attempt will bring some excitement to the what can be, at times, a bit of a lack-luster fall on Everest. If he does manage to summit the mountain, he'll have accomplished quite the feat, and have packed more adventure into a single year than most people have in a lifetime.
Latest posts by Kraig Becker
(see all)