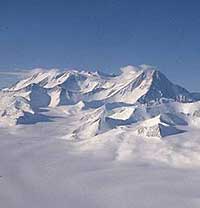 A few days ago Alan Arnette posted an entry to his blog that I thought was quite interesting. In the article, Alan talks about all the gear he is taking to Mt. Vinson when he sets out next week to begin his quest to climb the Seven Summits in an effort to raise $1 million for Alzheimer's Research.
The one thing that struck me in Alan's blog post is that he will be taking nearly all the same items to climb Vinson as he did on his previous trips to Everest. Considering that Vinson clocks in at 4892 meters (16,050 ft) and Everest is 8848 meters (29,029 ft), and yet you still need most of the same gear, should give you an idea of what the conditions will be like on the mountain. In short, they'll be cold, windy, and challenging. Did I also mention they'll be cold?
Alan goes on to discuss the various layers of clothing he'll be wearing to keep warm while on the expedition, offering insights on how to effectively use a layering system to stay warm. While he doesn't endorse any brands, he does tell us his preferences for of those layers. He also discusses his "extreme protection" gear which will be critically important when dealing with the notoriously fickle weather conditions on Vinson, and gives us a run down of the variety of other gear items, such as crampons, ice axes, and so on, that he'll be taking with him.
Vinson is the tallest mountain in Antarctica, and a challenging climb to begin the Seven Summits on from a logistical standpoint alone. But Alan has plenty of experience in that department, and weather permitting, should get his expedition off to a grand start. Dispatches will begin next week when he arrives in Punta Arenas, and I look forward to reading all about his adventures.
Good luck and Climb On Alan!
Latest posts by Kraig Becker
(see all)