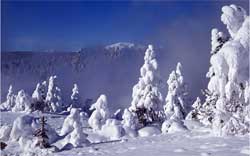 I'm off on my first adventure of 2011 starting tomorrow when I'll be heading to Montana to experience Big Sky and Yellowstone during the winter. The agenda includes skiing, both alpine and cross country, snow shoeing, sledding, wildlife viewing, and a whole lot more. I love the wild and beautiful country there, and can't wait to check it out under a blanket of snow.
Never fear though. I'm taking my trusty new MacBook Air along and hope to make some posts when I have Internet access, which may or may not be all that often. When I was out that way back in September, we often didn't even have cell phone service, let alone Internet. Either way, I hope to continue to do at least a little writing while I'm on the road, and may even be able to share some photo and thoughts on the trip as it unfolds.
In the meantime, I hope your 2011 is off to just as an adventurous start. No sense in waiting, just jump right in.
Latest posts by Kraig Becker
(see all)