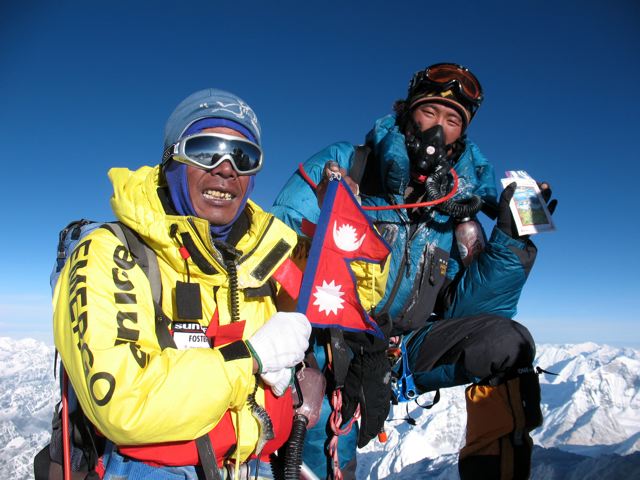 Today was the day that everyone on the South Side of Everest, not to mention followers at home, have been waiting for, as we have received word that the route to the summit has been fixed, and climbers are now free to begin their summit bids. For most, that means completing their current acclimatization rounds, and then keeping an eye on the weather to ensure a good window for the approach.
The world comes from various sources, including the Peak Freaks, who noted that this was an incredible display of speed on the part of the Sherpas putting the lines together. The team of six reportedly left Camp 2 this morning, and made their way up above the South Col, where they grabbed the ropes, donned their oxygen masks, and went to work. They were done in no time, and were suppose to descend back to Camp 4 to spend the night, but they felt so good they just kept going down the mountain. They're now bak in Camp 2 and resting comfortably.
IMG has even more information on the climb saying:
Today the IMG sherpas Phu Tshering and Karma Gyalzen, and the rest of the fixing team reached the summit! They started at 1am at Camp 2, climbed to the Col in time for breakfast, fixed to the Balcony in 4 hours, and decided to keep going! The conditions up high were perfect, and they reached the summit at 4pm (May 6 Nepal time) and got safely back down on the Col at 5:50pm.
They are leaving South Col at 6:30pm and heading for Camp 2 tonight! The route was on snow most of the way (some years it gets quite rocky above the Col) and there was quite a lot of snow up on the summit ridge and Hillary Step. All total they fixed 1600 meters of rope on the way up and are setting double ropes on their descent in the steep places.
So there you have it. Reportedly the conditions of the route up to Camp 4 are excellent, so depending on weather, and acclimatization, expect summit bids to begin by early next week.
Congrats to these six amazing climbers on notching the first summits of the season on the Big Hill. They're hard work has made it possible for everyone else to follow, and their strength and speed is something that I'll always admire. Well done!
Now let the games begin!
Latest posts by Kraig Becker
(see all)