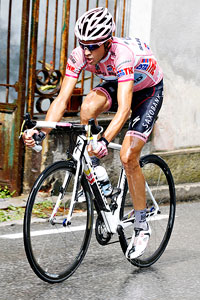 In what should come as no surprise to cycling fans everywhere,  it was announced yesterday that Alberto Contador will ride in this year's Tour de France, despite a looming hearing with the International Cycling Union and World Anti-Doping Agency over allegations that he may have taken a banned substance. You may recall that the three-time defending Tour champion tested positive for the drug clenbuterol during last year's race and has claimed that the trace amounts detected in his system were a result of eating tainted beef.
According to ESPN, Contador is scheduled to appear at the hearing on August 1st, just a week after the Tour ends. That hearing has been called to investigate the positive test after the Spanish cycling federation elected to clear Contador of all charges. If the UCI rules that the failed drug test violates their standards, Contador could face a ban from international competition.
Clenbuterol is an anabolic drug that can be used to improve performance, and it is available by prescription in some countries. The substance has been used in cattle as well in effort to get beef cows to bulk up much more quickly. In Europe, the drug is banned for that use as well, although some still use it. Contador has always maintained that he ingested it accidentally.
It has been a good year for the Spanish rider thus far, and he has already won the Giro d'Italia, which is considered one of the grand tours of the sport. He is the odds on favorite to win the Tour again this year as well, which would make him the first man to win both the Giro and the Tour in the same year since Marco Pantani back in 1998.
Meanwhile, the Outside Blog is reporting that Lance Armstrong and Tyler Hamilton came face-to-face for the first time since Hamilton told 60 Minutes that Armstrong used performance enhancing drugs while riding in the Tour as well. Apparently, the two men ran into one another in Aspen, Colorado this weekend, where Hamilton was on hand for the Outside in Aspen event and Lance has a home.
According to the story, the two men were having dinner at Cache Cache, a local Aspen favorite, when depending on who you listen to, a confrontation went down. According to Hamilton's people, Lance started to berate him and get in his face a bit, while Armstrong says it was just an awkward moment between two guys who use to be friends. Either way, it sounds like things got very frosty, very quickly, with the manager telling Tyler that he could finish his meal, but wasn't welcome back in the restaurant.
Ah… the soap opera continues!
Latest posts by Kraig Becker
(see all)