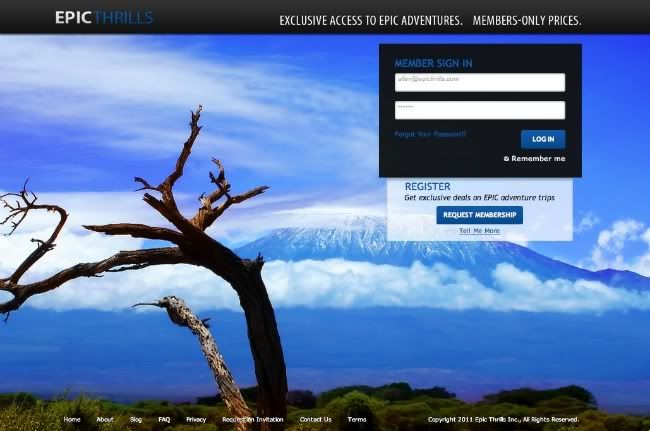 A new website could prove to be quite a boon for adventure travelers looking for great deals on their next trip. Epic Thrills launched this morning as a members-only site that offers exclusive pricing on some of the best trips available from some of the best adventure travel companies in the world.
Using the Jetsetter model of offering members a single exceptional deal each week, Epic Thrills has partnered with a number of well known travel companies to offer discounts of up to 30% off active adventures to far-flung corners of the globe. For example, the very first trip that they will sell is an 11-day mountain biking journey through Nepal that is organized by Pedalers Pub & Grille, a company well known for its fantastic cycling adventures. Pricing for this trip will be revealed at 1PM ET today, but I'm told the savings will be 20% off the regular price.
Once a new travel deal is posted, it will remain on the site for anywhere from 7-14 days, with a new deal being revealed each week. Members will have the opportunity to purchase at the discounted price, but once the trip reaches its maximum capacity, the deal will be closed.
At the moment, the only way to get into the site is by requesting membership on the site's sign-in page or to know someone (like me!) who can send you an invite. Once you're accepted, you'll be able to create an account, login and take advantage of the savings yourself. While you wait for that invite to be sent, you can read the Epic Thrills Blog, which looks to have some excellent content already in place.
I know that this approach to discounted travel deals has worked well for Jetsetter and it can be a really great option for travelers looking to save a little green. If you're an adventure traveler, you'll definitely want to get in on this program.
Latest posts by Kraig Becker
(see all)