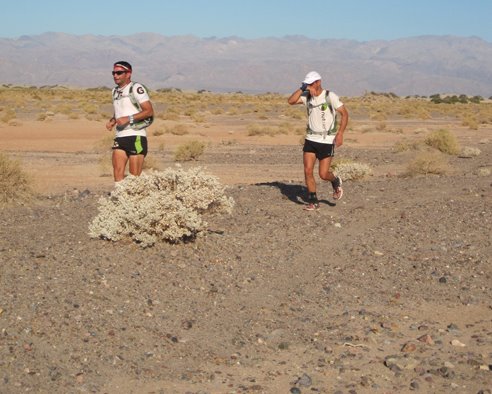 Last week I posted a story about ultrarunners Ray Zahab and Will Laughlin, who were preparing to run across Death Valley. The journey would start at the national park's northern boundary and would continue to its southern border, a distance of 300km (180 miles), through one of the harshest and hottest places on Earth. Yesterday, the two men completed their run, although it was even more challenging than they had expected.
I received an e-mail directly from Ray last night letting me know that they had finished their expedition. He noted that it took them 15 hours longer than they had expected and that temperatures often ranged in excess of 120ºF/49ºC. He also said that that the terrain was incredibly tough, turning the run into more of a hike. In fact, he said that is 4.5 days in Death Valley were equivalent to the worst sections of the Atacama Desert, which he ran across earlier this year.
The expedition's official website has been updated with video and photos from the run, with more coming soon. The video that I posted below is from the first two days of the expedition and demonstrates the conditions that Ray and Will had to deal with while in Death Valley. In the end, their GPS showed that they covered 260km (162 miles), while consuming 25 gallons of water along the way.
Next up for Ray is an impossible2Possible Youth Expedition to India in October, followed by an attempt to run across the deserts of Saudi Arabia in January. This Death Valley run helped him to test some new technology and gear that he plans to use on those expeditions as well.
Death Valley Expedition – Day 1 & 2 Video from GOi2P on Vimeo.
Latest posts by Kraig Becker
(see all)